We left Hilton Head on Friday morning at 8:30 for our 28 mile run in the ICW
to Beaufort, SC. Weather was gray with a drizzle and the winds were 10-15
from the north. We were looking forward to two nights in Beaufort, a
beautiful southern town. The marina is adjacent to the historic district
on the Beaufort River. The tides average 6-7 feet so the floating docks were
welcome. The tidal current is swift so you must make sure the vessel is secure
both directions as every 6 hours the direction of the current reverses.
Beaufort, SC. Note marina on left side in distance
We passed Parris Island the large Marine Base. We were glad we were just passing by.
The marina fills up in the late afternoon with the transients heading north or south wanting a stop for the evening. Most seem to be heading north.
Island Hopper at the end of the dock, easy in/out. Luckily a no wake zone on the river here. Fine for violation is $1050.
The Arsenal, now a visitors center. Built in the early 1800s.
Across the from the arsenal is a restaurant called the Egret. It was housed in an old firehouse.
WE returned to the boat in the afternoon to witness two pirate ships northbound. No passengers on either. I called them on the radio and learned they were heading to Richmond VA for Memorial day weekend. since they didn't stop I put the weapons away.
Beautiful antebellum homes everywhere in the historic district. Too much maintenance for me but sure is nice to see them.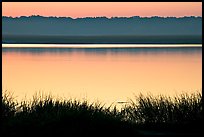 Tidal Marsh at dawn
The waterfront north of the marina is a beautiful park. Many folks enjoying the sun and the good restaurants lining the adjacent street.